Most of the
Polidori Chocolate orders
have shipped, with the rest soon to follow. A day later than I anticipated and within an acceptable timeframe but ... not perfect. And I'm a perfectionist. So, yeah, I'm a little jittery.
You know those stories you always hear about new business start-ups? Like
The day we opened the store, there was a power outage so we had no lights,
or
The seafood purveyor couldn't get us enough shrimp for our restaurant's opening night,
or
Our first shipment of computers ended up on the wrong truck and went to Boise?

I now know how those people feel. And, like those people, I'm sure I'll find it all
hilarious
some day in the future. Right now I'm just tired.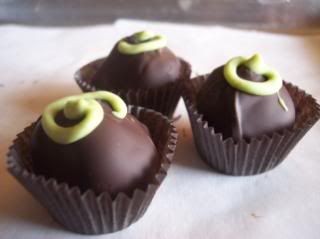 Things that went sideways:
I had no idea that the post office wouldn't just, you know, stock Priority Shipping boxes to supply to businesses. Even the big central post office, where I had been told on the phone that I could "just come down and pick them up," didn't have more than 10 on hand when I got there. And -- I am not making this up -- the first employee I spoke to when I got there claimed that there was no such thing as an 8 x 11 flat-rate box, despite a display on the wall and Priority Mail brochures on the counter. (Oh yes, there will be a strongly worded letter to the postal authorities.) Nothing says fun like visiting four different post offices to scrounge boxes.

I discovered the hard way that I can't use bits of candied orange peel to decorate the dipped Grand Marnier truffles. The sugar and/or moisture in the peel reacted poorly with the chocolate coating and ... yeah. They looked horrid. They tasted fabulous, mind you, but not a single one of the 50+ truffles could be shipped and the entire batch had to be remade. That was an expensive, and time-consuming, mistake.
Also, an experimental "big batch" of marshmallows didn't set up properly and had to be discarded. And remade, in smaller batches. Again, money and time lost, which ratcheted up the stress a bit.
When time got tight, we thought we might have to delay shipping one more day ... but we'd already printed (and paid for) the shipping labels, and the post office will only accept Priority Mail shipments on the date on the label. So, yeah. That was a jolt to the system.
I couldn't remember precisely where the new Trader Joe's location was, so I ended up driving around and around the same neighborhood for, like, 45 minutes while I grumbled that "it's here SOMEWHERE" until I'm sure she just wanted to haul off and punch me.
Trays of undipped truffles + bowls of melted chocolate + trays of finished truffles + trays of marshmallow + candy boxes + shipping boxes = A whole lot of stuff crammed into any available space. If I lived in a tiny apartment, I could never have done this. As it was, it was far more chaos than I'm comfortable with. Yikes!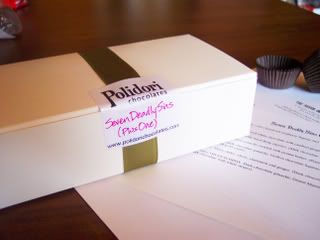 Things that went right:
The U.S. Postal Service is happy to provide large amounts of flat-rate Priority Mail boxes at no charge, delivered to your home or business, and you can order them online. Sure, they take a week to 10 days to arrive, but I won't be upsetting their careful allocation of ten boxes per post office at any given time.
The finished truffles and marshmallows look and taste terrific. The packaging is nice. I'm okay with the finished product, although I still want to tweak a few things.
The Portland Airport post office is open until 10 p.m., and it's just 15 minutes from my house. So the boxes got to the post office ... five minutes before they closed, like something out of a bad sitcom. But they did get there.

My husband and my friends are awesome, and indulge my psychosis with patience and humor. If you ever have to put together a last-minute assembly line to pack up chocolates, I know just the folks.
I did not collapse into a heap of what-the-hell-am-I-doing sobs at any point in the process, no matter how hairy it got. I wanted to, once or twice. But I did not.
Some e-mails will go out later to a few people with an adjusted delivery date, but other than that today is a Day Off. Okay, I also ought to write a review of
Iron Man
, which I saw Tuesday night (in one word: awesome). And I need to wash a whole lot of dishes. And my living room looks like a chocolate-factory exploded in it. And ... oh, hell. I don't get a day off, I guess.